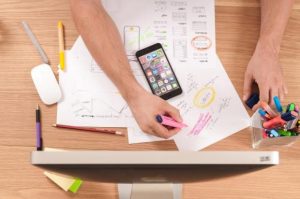 Many businesses over complicate the digital marketing strategies they try to implement. There are so many easy and cheap ways to have effective digital marketing, that can really help simplify the strategy.
Here are our top 3 tactics:
SET UP EMAIL MARKETING
You don't need to buy a fancy email service or create a huge campaign to start an email list. Instead sign up for Mailchimp (FREE) and:
Grab existing emails you already have from current clients, past clients, friends, and family. Right there you could be starting with a list of 100+ people.
Export the emails from your Quickbooks. These are already people you've invoiced and are interested in your services.
WHAT TO PUT IN YOUR EMAIL
It doesn't need to be this long extensive newsletter. Don't over think this, or you will never send out a newsletter. Th purpose of small businesses sending out emails in the first place is to remind their customers of their brand. Here are 4 email examples:
Tell them what you've been up to
Highlight a service you offer
Send them a discount code
Link up 3 of your favorite blog posts that you think they will like.
Tip: Make sure your email goes out the same day every month for consistency.
HAVE GREAT SEO
What is SEO exactly? Search Engine Optimization. The goal with SEO isn't to "cheat the search engine. It's purpose is to:
Create a great seamless user experience
Communicate to the search engines so they recommend your website for relevant searches.
Create a great seamless user experience
Communicate to the search engines so they recommend your website for relevant searches.
To do this, your website needs:
Relevant Content: This is determined by the text on the page, titles, and description.
Performance: How fast does your site load and does it work properly?
Authority: Does your site have good enough content to link and share? (This is why websites with active blogs do so well and attract more traffic through Google.)
User Experience: How does the site look? Is it easy to navigate? Is it responsive.
Fact: Users are 60% more likely to view your site on their phone.
TIP: You need to verify your business on googlemybusiness.com. Google rewards businesses who put themselves on their map.
BE ON SOCIAL MEDIA
It's clear small businesses need to be on social media. It's the quickest and cheapest way to market your brand online. Utilizing social media allows you to increase exposure, increase traffic, create brand recognition, brings you more loyal fans, and most importantly improves search ratings.
You must be on Facebook at the very least. It is the largest social network for businesses. Our recommendation is to be on 2-3 platforms to create consistency. But make sure your audience is on those platforms or you will be talking to an empty room.
Best platforms for small businesses is: Facebook, Instagram, LinkedIn, and Google+
Get on Youtube. Youtube is the 2nd largest search engine. Make a video highlighting your services or show a how-to.
A lot of small businesses just want to do it all and check the boxes off to make them feel productive. With digital marketing, less is definitely more. Your audience will respond better to you posting value once a day, rather than fluff 7 times a day. So do your research, connect with your audience, and humanize your brand. People want to work with people, not logos!